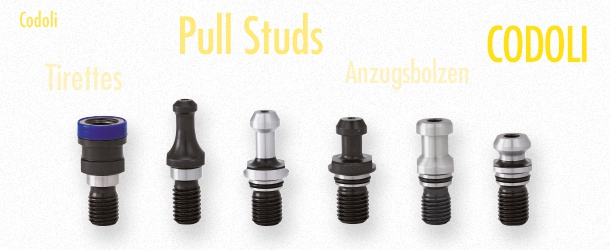 PULL STUDS
Serinex produces every kind of pull studs (BT, DIN, ISO, CAT-METRIC, HURCO, JIS 6339, OTT, CHIRON, C.B.FERRARI, KITAMURA, MITSUI, wood-working machines pull stud and pull stud for adaptors).

Every pull stud follows a high-quality standard to pursue the maximum operative safety. For our production we only use high-quality steel bar (16NiCr4), produced in qualified steel plant, provided with quality certifications and individually controlled with ultrasounds in order to avoid internal deficiency of the material.
Furthermore, our pull studs production undergoes a specific heat-treatment to obtain superior quality of RESISTANCE and RESILIANCE. All the mechanical workings are performed in our modern division in Oggiono, not far from Lecco, in a place of more than 7000 mq. , supplied with a wide rolling stock with a high daily production.

In the productive unit "pull studs", we only use latest generation CNC machines; furthermore every working phase is carefully controlled by our technicians, following the procedures of the certification ISO 9001: 2000, and verified by our twenty-years experience.
In our automatic storehouse every kind of pull studs is always available, in every typology on the market (BT, DIN, ISO, CAT-METRIC, HURCO, JIS 6339, OTT, CHIRON, C.B.FERRARI, KITAMURA, MITSUI, wood-working machines pull studs and pull studs for adaptors)