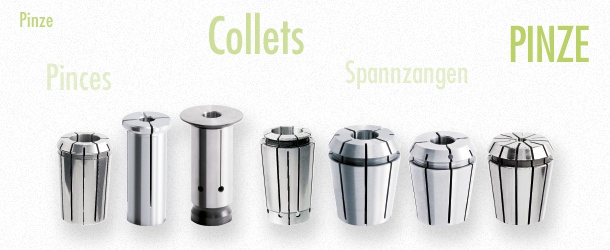 Collets
Serinex is specialized in the production of clamping collets of every kind (ER, ERG, ERM, ERGM, ERD, ERXD32, EOC, BE, ETG, 4SR, 6SR).
Our production stretches from collets for tools machines ( for steel working, aluminium working and even wood and plastic working), to elastic collets for adaptors and collets for electric tools, in every size.
For our clamping collets we only use high qualified steel ( i.e. 52SiCrMo5, 60MnCr5 etc.), coming from qualified steelworks; furthermore every lot of materials is equipped with a quality certificate which guarantee its goodness and its peculiar characteristics.
Every working is performed in our modern productive department in Oggiono, not far from Lecco. We only use latest generation CNC machines to produce elastic collets for adaptors;
Furthermore, every phase in the production of tools machines collets is carefully controlled by our technicians, following the legislative procedures contained in the certification ISO 9001: 2000, and verified in addition by our twenty-year experience.
All the elastic collets for adaptors can be provided in two classes of precision: Standard and Ultraprecise.
The entire production of clamping collets undergoes a finishing touch called "Extra-fine", which allows to obtain a superficial "super-finishing touch" .
We are able to realize special collets or collets constructed on specific indications of the client, and thanks to our technical office we can render assistance and expertise advice for the production of special collets.
Our automatic storehouse makes it easy to have a continue availability of every kind of collets (ER, ERG, ERM, ERGM, ERD, ERXD32, EOC, BE, ETG, 4SR, 6SR) in every size on the market.